About IVC Filters
The Inferior Vena Cava and Blood Clot Risks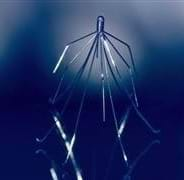 The Inferior Vena Cava (IVC) is a large vein in the abdomen that returns deoxygenated blood from the lower extremities back to the heart to be pumped to the lungs for reoxygenation. Blood clots that form in the legs or pelvic area can break up then travel to the IVC ultimately reaching the heart or lungs causing a heart attack or pulmonary embolism. Traditional treatment for blood clots involves the use of blood thinners. However, for various reasons, certain patients who are at risk for blood clots cannot take blood thinners. In these instances, IVC Filters have been used as an alternative to prevent moving clots from reaching the heart and lungs.
How IVC Filters Work
IVC Filters can be either temporary (retrievable) or permanent. They are small, pronged metal devices that are implanted into the IVC. The implantation procedure is minimally invasive. A catheter is inserted into a vein either in the neck or groin area through a small incision and pushed through the vein to the IVC. The filter is then fed through the catheter until it reaches the IVC. The filter is opened and the legs (or struts) are implanted into the IVC so that it is stationary. The filter is designed to catch fragments of blood clots before reaching the heart then lungs while still allowing for normal blood flow to the heart. In the case of retrievable IVC filters, the filter has a small hook so when the risk of clotting has decreased, a catheter is reinserted through a vein into the IVC in order to grab onto the hook which closes the struts and allows the filter to be pulled out of the body.